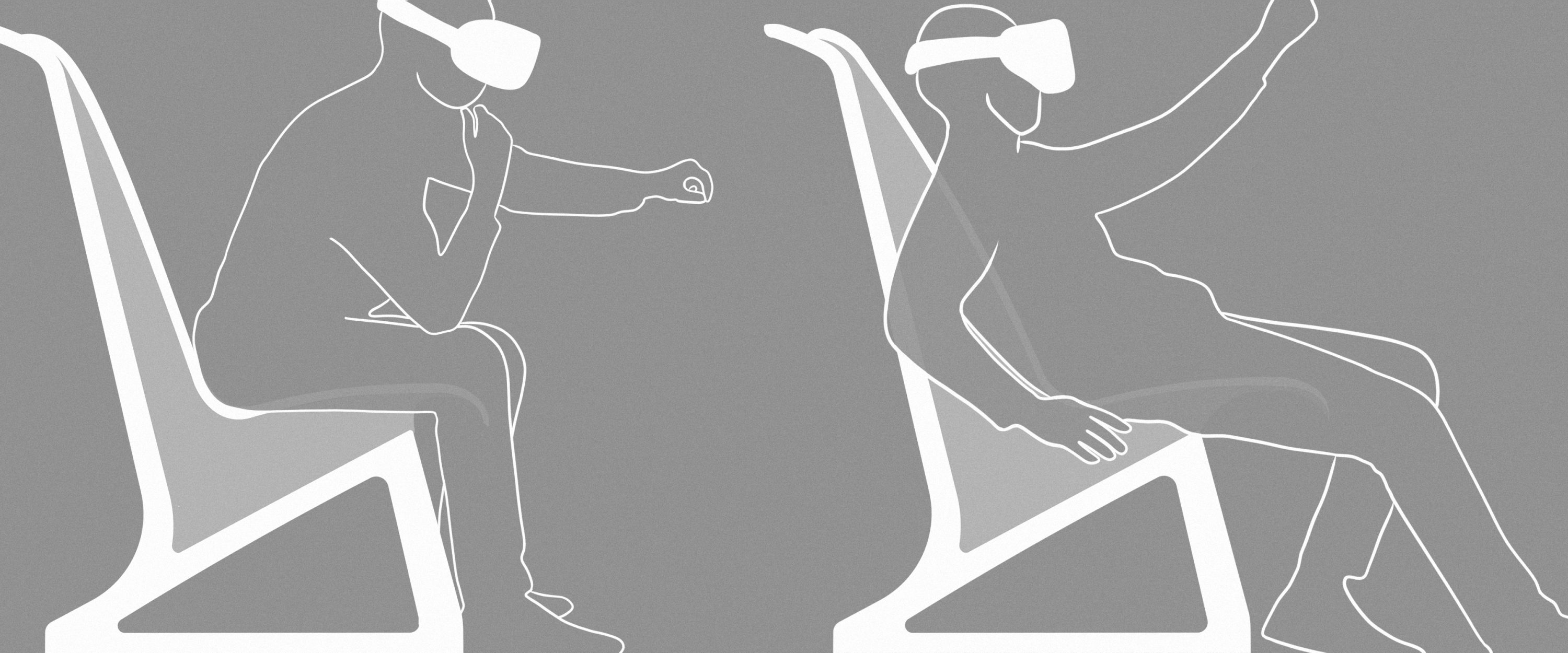 At Alegre Design, we propose a game: to reflect on the evolution of furniture in the coming years in the face of the technological development of new virtual reality glasses that will allow us to work, interact, or read from anywhere and in any position. Devices like Apple Vision Pro and Microsoft HoloLens are leading an imminent transformation of workspaces due to their increasing use.
Is this the end of furniture as we know it? We have prototyped a first concept that provides a solution to the new ergonomic needs of the not-so-distant future.
The launch of the television marked a turning point, necessitating the creation of new furniture to support it. Years later, the same happened with the arrival and standardization of the use of personal computers. Later on, as professional office chairs gained popularity, they evolved to better suit desk work. They were designed to adjust to the height of desks, accommodate fixed computer screens, and offer mobility.
What's more, despite the ergonomic evolution experienced by office chairs in recent years, they are still limited by their need to adapt to a desk. But, what if new technologies do not require a desk but are used solely with virtual glasses? How will the transformation of workspaces influence the way in which we design the furniture of the future?
But what if the desk is no longer necessary?  
Recent developments in Augmented Reality and Virtual Reality devices suggest a looming transformation of the workspaces as we know it. With gestures replacing the keyboard and mouse, the desk ceases to be a central hub. A panorama of screens instead of a single monitor invites users to move around as they work. Attending meetings from the comfort of one's home could finally be as seamless as a gathering around an office table. A current-day office chair in these types of workspaces would be an anachronism.
"At Alegre Design we have developed an innovative study that allows us to find the right inclination for a new chair concept that can accommodate different positions derived from the use of virtual reality glasses. This graphic shows a comparison of the different backrests that we have been developed over the years and allows us to venture into a new model that responds to a need that is not yet present", explains Marcelo Alegre, CEO of the studio.
Data collection to determine the appropriate inclination for this chair concept, ensuring a healthy response to most postures during the use of virtual reality glasses.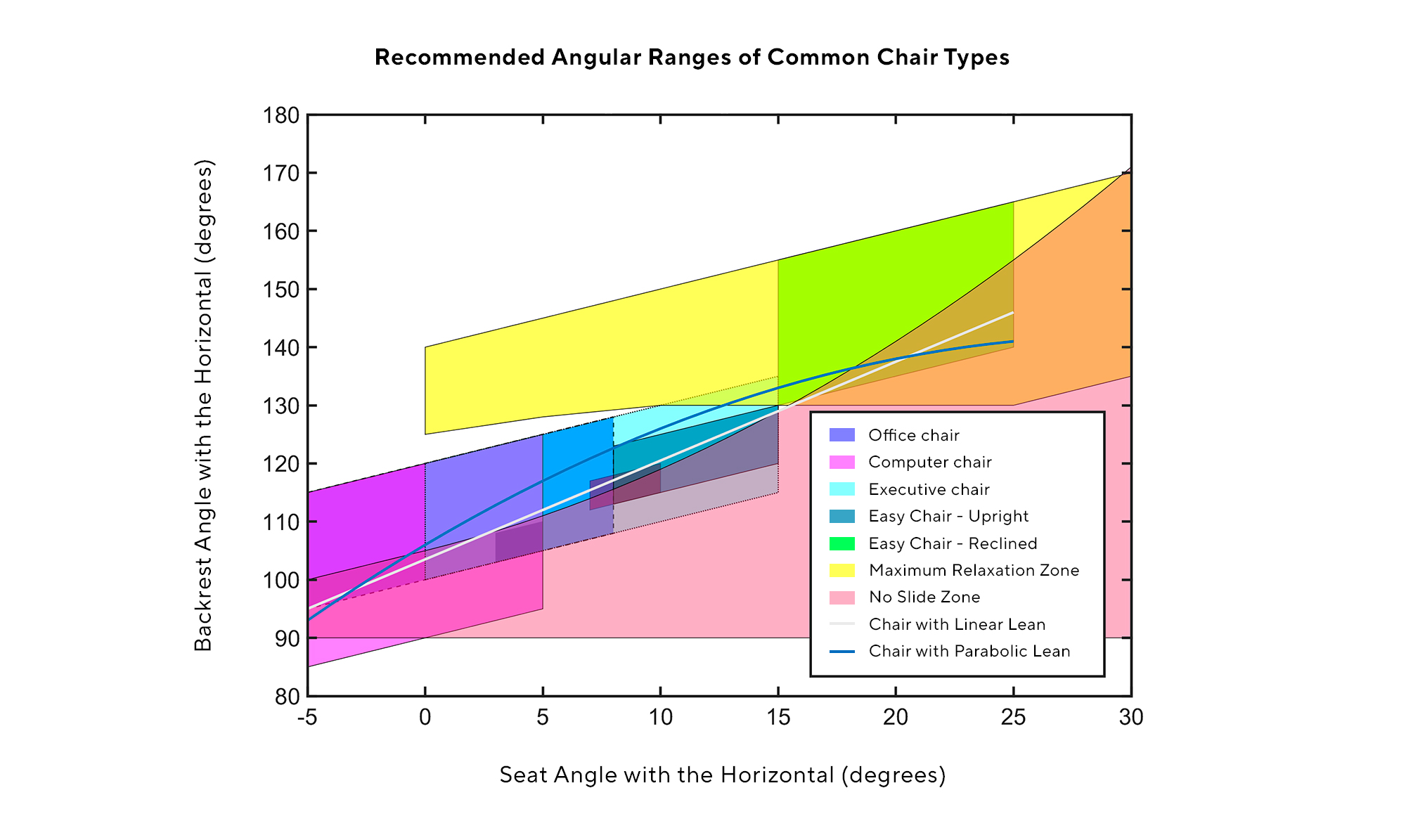 The changing times call for an office chair that can support users in new ways. We sought to create a concept chair suitable for the Virtual Reality era–one that facilitated movement, felt comfortable, and looked natural in both domestic and office environments. Incorporating the latest findings from ergonomic studies, this concept design acknowledges the evolving postures of users in an Augmented Reality environment. As AR devices become more integrated into our daily tasks, the way we sit, stand, and move undergoes subtle shifts. This concept anticipates those changes, ensuring that users maintain a healthy posture whether they're immersed in a virtual meeting or interacting with augmented data overlays.
Free movements for each work situation without adjustment.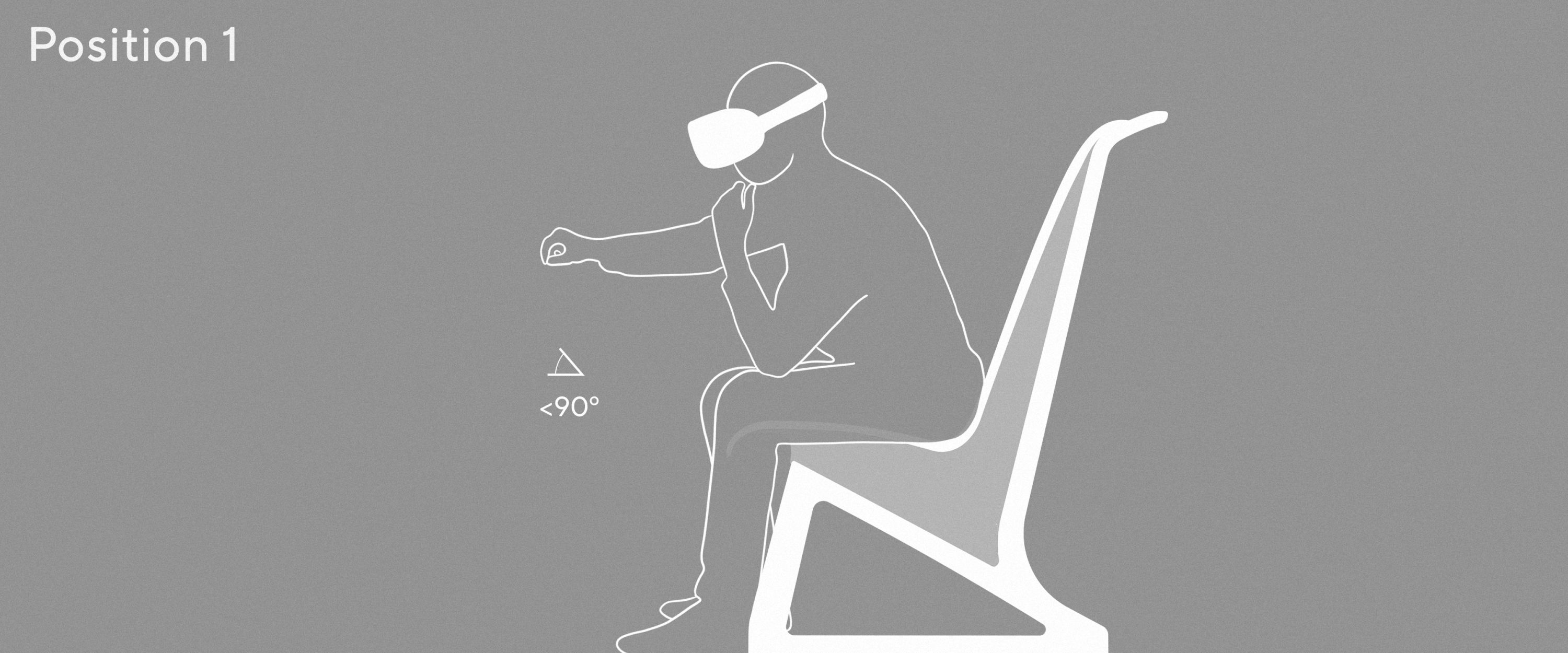 The concept we devised is a sleek side chair with a reactive backrest. The sweeping triangular base is organic yet robust, ending in a handle apt for users to rest their hands upon as they stand and gesture. The seat is a smooth lamina whose thickness varies, giving the chair the freedom and flexibility to conform to the user's spine but providing more rigid stability for the bottom and thighs. It hinges from the top and rests on a covert rail, gently allowing users to glide forward and backward as they work, with the backrest pivoting with them. When the user reclines, the seat is in its forwardmost position; when the user sits up, their center of mass shifts, naturally pushing the seat back and making the backrest more erect.  An airy mesh connects the seat to the base, dampening the motions and providing elasticity and support.  
"A new era is upon us, and the traditional office setting will not remain untouched by the exciting changes ahead. At Alegre Design, we have been working for years to anticipate future needs. This internal exercise has allowed us to explore and address parameters we hadn't considered before," according to Marcelo Alegre. "This concept of a reactive backrest chair defines a practical vision of how a chair can adapt to user needs and meet the demands of new times," he adds.